Footrot Flats
New Zealand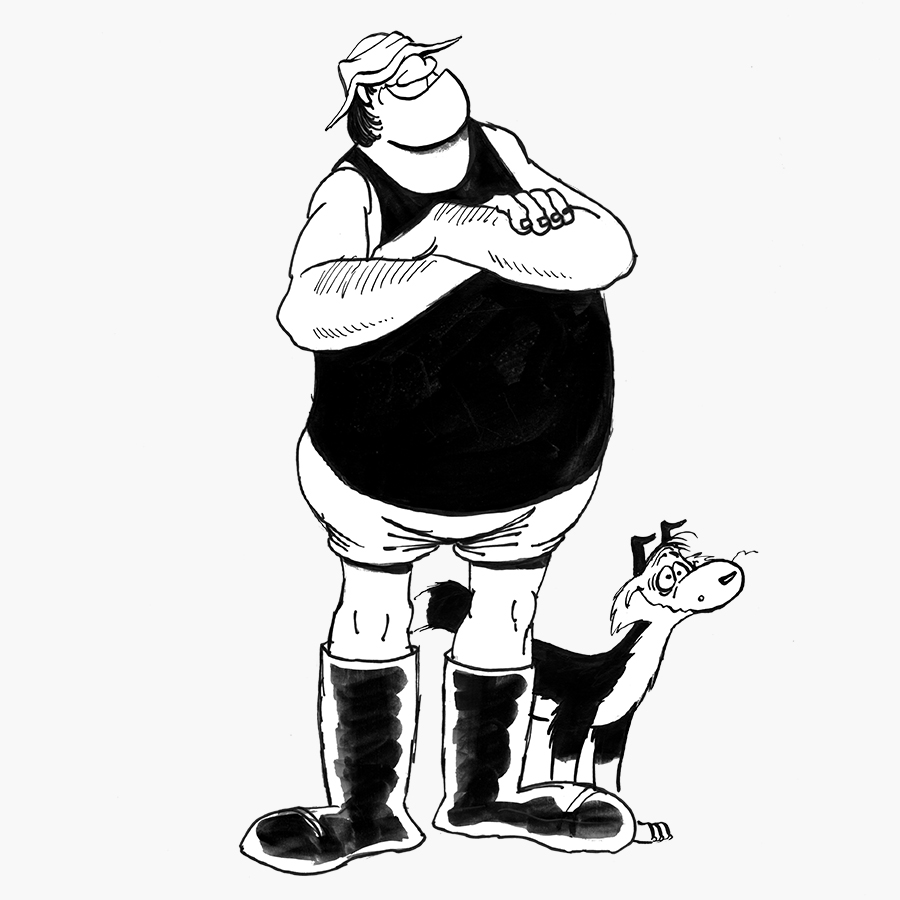 Introduction
Footrot Flats
Footrot Flats has been enjoyed by people from all walks of life for many years. While it helps a bit to have some farming background, the strip is essentially about a man and his dog. Set against a backdrop that is probably most familiar to New Zealanders and Australians, it could be any place where a few animals gather together to amuse, torment and baffle their human counterparts.
The strips first appeared in The Evening Post newspaper in 1976. Murray reckoned that The Dog in the very first cartoons looked 'emaciated, saucer eyed, marrow nosed with an unhinged jaw and a tongue like a chewed necktie. But the characters developed, and Murray's daily cartoons went on to appear in over 200 papers in New Zealand and Australia. It popped up in a few other countries too, like Denmark, where it was translated and re-named 'Faehunden'
Increasing popularity led to compilation books and merchandising. A stage play was written and an amusement park took on a Footrot Flats theme. Then, in 1986, Footrot Flats A Dog's Tail Tale, New Zealand's first animated feature film was released.
Murray stopped drawing Footrot Flats in 1995. He noted that The Dog would, by then, be old and his muzzle streaked with grey … and he couldn't let that happen to his old mate. So, he retired the strip, reflecting that, in Footrot Flats, he was 'Just happy to have struck something people like'.
The Cartoonist
Murray Ball has amused, delighted and, at times, offended readers of his cartoons over many years.
He made no secret of his desire to use his characters to 'change the world' and, for a while it seemed that his cartoons would serve only to agitate - All this changed in the mid-1970s when he decided that a cartoon about a farmer and his sheep-dog 'might be a good idea'.
Main Characters
· The dog : Wal's off-sider and comic heart of the farm, he will take you round the daily goings-on and end the tour beneath the freshly hung carcass in the macrocarpa tree. Of course, he's usually out at work eye-balling sheep, but if not, he might well be in his water-tank kennel or keeping vigil at Jess's bitches box.
If you've got big boots to fill, ask for the main man, Wallace (Wal') Footrot. As the farmer of Footrot Flats and The Dog's best friend, he is the bloke to turn to if you have any sheep to crutch or a tree to cut down - though he might be more likely to challenge you to a round of farm golf or a game of cricket in the side paddock.

· Aunt Dolly : Wal's fussy and slightly over-bearing aunty is keeper of the keys and maker of the finest pikelets with jam and cream this side of the black stump. Apart from tending to want to blab The Dog's unspeakable name, and doling out dinky-dog bikkies to her indulged corgi, there are worse old birds to have around.

· Cheeky Hobson : Raupo Township has never had a seductress the likes of the belle of the hair salon. Blonde, buxom and with a painted pout, there is no-one who makes heads turn at the pie-cart like Ms. Hobson. If her charms are directed anywhere within 180 degrees of Wal' Footrot, he is helpless. Hopeless.

· Cooch : If you turn over a fern you will see its silver underside, and if you turn over the hand that turns over the fern, you'll find Cooch Windgrass, lover of head-winds and the only farmer to register blackberry as a protected species. Hats off to the bean-pole built, humble Cooch, Wal's best friend and fishing companion.
· Horse : No-one knows where this legendary tom cat came from, but he likes it here at Footrot Flats. There are fly screens to shred, dog bowls to dominate, eels to snatch from creeks and rats to keep in their place. All creatures great and small give the scowling Horse a wide berth, lest they get a Zorro mark scratched on their noses.
Visuals